7 November, 2015
Andy Thomson MBE took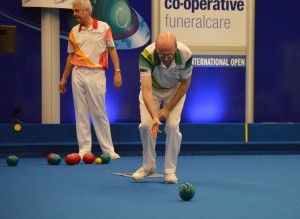 on qualifier Brett Arkley in the 3rd match of the day and it was Thomson who took an early lead in the first set and despit a spirited fight back from Arkley it was Thomson that went on to win the set 13-9. Into the second set and Thomson denied Arkley a look at the jack at all and despite all efforts by Arkley it was Thomson that stormed the second set 8-0.
Jason Greenslade went up against Australian Qualifier Barrie Lester and the first wet was a real nail biter for the Australian – 4 all in the third end it went to the 7th end with Lester being 5-7 up. Greenslade took a double in the eighth end to go 7 all and then despite all efforts by Lester, Greenslade sneaked a single in the l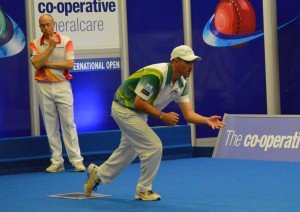 ast end to take the set 8-7. This seemed to give Greenslade a massive boost as he tore into the second set and denied Lester a look in and despite some extremely good bowls from Lester it was Greenslade that took the second set and match. 8-7, 9-3
Les Gillett faced New Zealand Qualifier Andrew Kelly and it was Gillett that took no prisoners and with precision bowling literally tore the card up and took the first set 9-2 and repeated this to take the second set 10-5.
All matches can be watched in full at www.youtube.com/worldbowlstour.