19 January, 2016
Qualifier Mathew Orrey took to the stage again against the still injured World No17 Simon Skelton in Green. Orrey got off to a flyer in the first set and led it 4.0 then Skelton found his form of round one and picked up two counts of three then two counts of two to leave the Grantham man Orrey stuck on 4 and Skelton lead on 10. Orrey then hit back , but it was not enough and Skelton took the first set 10.7.
Orrey was not to be taken prisoner by Skelton though and in the second set we were treated to a great performance with lead bowl after lead bowl from Orrey putting Skelton under pressure. Orrey led 7.0. Where we to see a come back again, as in the first set, by Skelton? He proceeded to win the remaining five ends of the set, But Orrey held his nerve and held the set 7.6.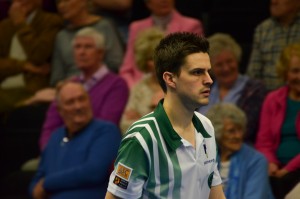 Tie break time and both players played superb bowls in the first two ends we went into end three. Orrey draws within inches. Skelton is just short. Orrey puts another in close. Skelton draws but just fails. All down to the last bowl and Skelton takes his time and draws close. Measure time and the crowd hold their breath while the umpire takes his callipers and declares the red bowl shot. So Orrey moves into the quarterfinals to face World No6 David Gourlay.