13 January, 2016
Second m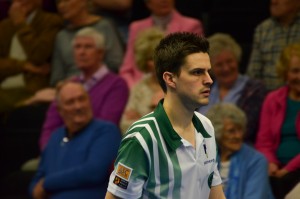 atch of the afternoon was Paul Foster MBE against qualifier Mathew Orrey and what a match that turned out to be. Orrey admitted to being highly nervous when he first stepped out onto the portable rink and maybe could have played the odd shot a little better but it was Foster's bowls that were also awesome and it was Foster that played brilliantly - he had to – and through no fault of Orrey Foster took the first set.
Into the second set and Orrey had settled in and quite literally the match was one of incredible end for end bowls, both players producing fantastic shots that literally had the 1000 strong crowd shouting from rinkside. Orrey held it together and for this set it was Orrey that denied Foster and forced a tie break.
In the tie break the crowd could hardly contain themselves – in fact they didn't – and with one end each it went down to the wire. In the last end of the tie break it was bowl for bowl and ended with Orrey surrounding the jack and Foster with last bowl – Foster drove and was right on target, he caught the jack and it looked like he had it – then a twist of fate as the jack bounced and went to Orrey so it was Orrey that stepped off the rink as the match winner. This match has to be declared as match of the tournament so far so well worth a watch on WBT Utube: youtube.com/worldbowlstour.