20 January, 2016
A jam packed audience in the International Arena at Potters Resort sat down to w
atch Alex Marshall MBE, 6 times World Indoor Champion, play against qualifier Mark Dawes from Blackpool Newton Hall Holiday Park Bowls Club. The first set saw two players at the top of their game absolutely nailing the sport to the rink and such was the quality of the bowling it had the crowd totally mesmerised. Into the 1st set it was Marshall that managed to hold on get a 2 shot lead by the close of end 5 to go 5-3 up, but Dawes was not about to let him get away with it and managed to take 4 shots away from him in the next 3 ends to take the score 5-7 to Dawes. Into the last end and it was nail biting stuff as Alex managed to get a double to level the score to 7 across to draw the first set 7-7.
The second set saw neither player g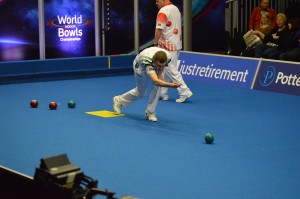 etting ahead – close of end 3 it was 3 all with Dawes picking another hard fought single in end 4. Ends 5 & 6 saw Dawes and Marshall getting one shot apiece and then ends 7 & 8 again saw Marshall and Dawes getting a double each to go into end 9 at 6-7 to Dawes. Bowls for bowl these two slugged it out to pinch each other off the jack – nailbiting top quality bowls and at the end of it Marshall managed to retain the single to yet again bring the set to a tied close of 7-7 and force a three end tie break. Into the tie break we went and it was Dawes that held final shot on the close of the end. End two and it was all repeated but this time it was Marshall that retained the shot so we went into the last and final end – again we saw the two players literally swapping shot until with one bowl left Dawes had to wrest shot away from Marshall – Dawes played a draw bowl and it just fractionally went a bit wide and did not quite make it back and it was a much relieved Marshall that took the last end and match. The crowd went into thunderous applause for both players and rose to their feet to give both players a standing ovation as they walked back down the rink – what a match – well worthy to have been a final and the crowd genuinely showed th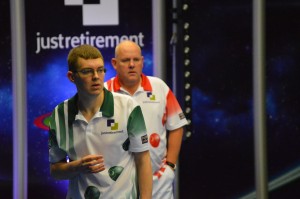 eir appreciation to both players such was the standard and exactness of their play. The final scoreline was an incredible 7-7, 7-7, 2-1.