14 November, 2015
Lights, Camera, ac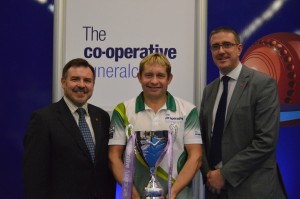 tion for the Final of the Co-operative funeralcare Scottish International Open 2015 and would it be Jason Greenslade or Greg Harlow who would reign supreme here at the Dewars centre in Perth? Both previous winners of the event, both desperate to win this year's event. The opening set started a nip and tuck affair with counts of one shot at each of the first four ends. All square 2.2. Greenslade pick up a one at the next end but then Harlow counters with a two at end 6. Harlow 4.3. The next two ends saw single shots to Harlow and the man from England took a 6.3 lead. Another count of two and after nine ends the score was 8.3 to Harlow. The final here is over eleven end sets, not the usual nine ends, so could Wales's Greenslade drag the five shot deficit back? Harlow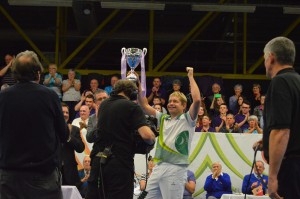 , playing superb, looked the man on a mission and Greenslade was struggling to find his weight on the portable rink. Greenslade managed to pick up a shot at end ten, but that left him with the almost impossible task of picking up a four to tie the set, something Harlow wanted to avoid. He does just that by picking up a count of three himself and takes the first set 11.4.
Greenslade took the opening ends of set two with single counts. Harlow levels the score up with two shots at end three and again the battle on the rink has the capacity crowd mesmerised. Bowl after bowl changing the head. Harlow picks up a shot at end four and Greenslade counters at end five. The score 3.3. Never happened in a final before but at the next end, holding three, Greenslade times out on the shot clock with his final bowl which leaves Harlow a bowl to save a count of three, he strikes and manages to get two away, but Greenslade still picks up a one. 4.3 Greenslade. The same score Harlow held after six ends in the first set. Next end Greenslade. A superb end eight finishes in two shots to Harlow. But Greenslade rallied again and took the remaining ends of the second set and finished it 8.6.
Tie break time, to the delight of the crowd at the Dewars Center who did not want the match to finish. First end Greenslade put one close and Harlow could not shift it. Harlow then took shot at end two and we go into a third end. Harlow led well and left Greenslade having to play into the head. He did and the jack went into the ditch with one of Harlow's bowls close to the edge. Harlow fell short. Greenslade played through at Harlow's shot bowl and missed. Greg Harlow is the 2015 Co-operative funeralcare Scottish International Open Winner.
The presentation was done by Andrew Brown, Sector Manager for Scotland and Northern Ireland and John Taylor, National Community Manager both from the Co-operative funeralcare who were the title sponsors for this event.