21 January, 2019
First match today was back to the World Indoor Open Singles first round and it was Brendon Egan from Australia up against the World Indoor No. 1, Greg Harlow, from England. Egan has a good pedigree from Australia having won their Australian Sides Championships three time and also Queensland State Pairs.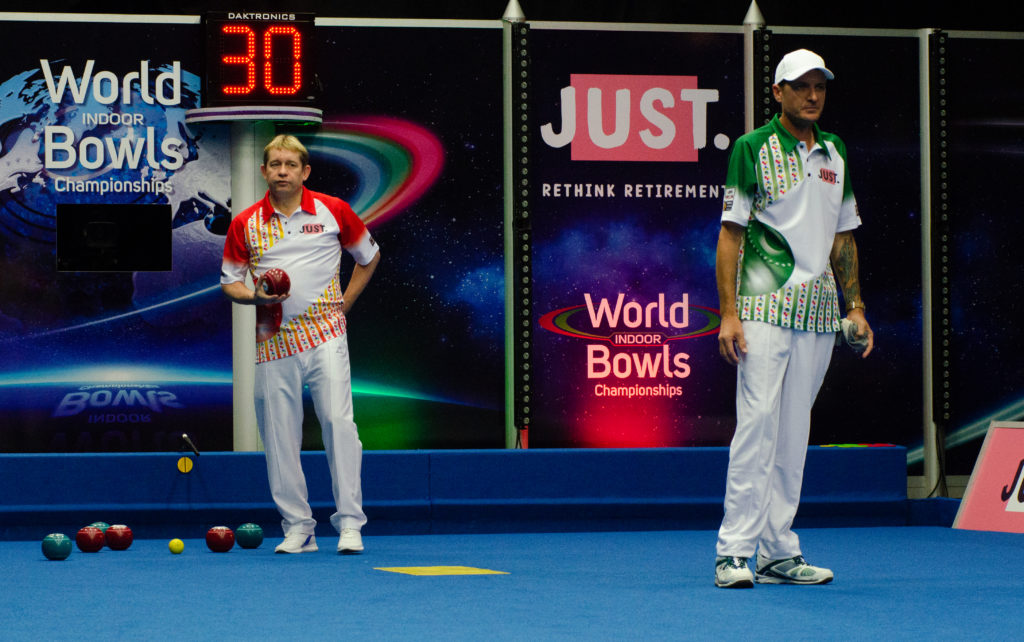 First set took Egan a few ends to get to grips with the pace of the carpet and this allowed Harlow to take full advantage of that. Although Egan did try to hold off the World No1 Harlow constantly took away any shots Egan placed near the jack with even closer bowls. By end four Harlow was eight shots ahead and it did look as if he was going to runaway with it. Egan, however, had other ideas and in end five played some great shots to take a three away from Harlow, then in end six it was Egan that shone as he played a great bowl to take a single away. End seven and Egan was down in the head and played a timed shot perfectly, took a count of two, now he was only two shots behind. Harlow though dug in his heels and with absolute precision took a double in end eight followed by a single to take the first set 11,6.
It was Egan that started the second set well with a three on the first end but again it was Harlow, all business that stopped Egan in his tracks. No matter what Egan played, and he did play well, it was Harlow that picked up the next five ends to go six shots ahead at 9,3. Egan still applied full pressure and showed no signs of despair and he narrowly missed a double count in end seven, only coming away with a single to be five behind Harlow going into end eight. Egan needed at least a double and it was Harlow that shut him down, Egan tried a weighted shot but only came away with a single so the second set and match went to Harlow 9,5.