17 January, 2016
First match of the day here at Potters Resort at the Just Retirement World Championships was between Les Gillett v Jason Parkinson and into the first set it was taking Parkinson quite a while to find the rink line against a
well playing Gillett. Gillett opened up like a demon taking 8 shots to nil in the first three ends of the first set. Parkinson began to find his was and started harassing Gillet and managed to take 5 shots away from him over the next 4 ens to take the set score to 8-5 in the 7th end. Just when it looked as if Parkinson was about to take over the set it was Gillett the upped a gear and swiped a double of Jason in end 8 to close out the first set 10-5.
The second set was a much harder affair for both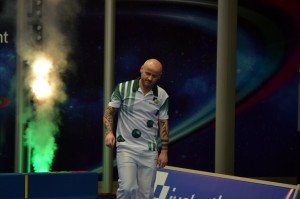 players as Parkinson found his stride and started to match Gillett shot for shot and was 5-3 up by the 6th end. Taking another two shots over the next three ends to Gilletts single it was Parkinson that closed out the second set to force a tie break 4-7. Into the tie break and with both players taking one end apiece it was Parkinson laying shot for match with Gillett one bowl to play – Gillett had to plain a running bowl and he was perfect with it, edged the jack away from Parkinson and it was game set and match to a much relieved Gillet. 10-5,4-7, 2-1.