20 January, 2016
Last match of t
he day was England's Rebecca Field against Ireland's Cliodhna Eadie in the second semi final of the Just Retirement Ladies World Indoor Matchplay here at Potters Resort. Into the first set and it was Cliodhna that got started well and she put Field against the ropes in the first set. By end 5 Eadie was 2-5 up and she slotted in a further double in end 6. Field managed a single in end 7 but Eadie put away a further single in end 8 to take the set 3-8.
Into the second and it was Field that suddenly found her feet as she took the first two ends with a double and a single, Eadie pinched a single in end 3 and Field retaliated with a treble in end 4. Eadie tried to fight her way back taking the next three ends with singles but it was Field taking the n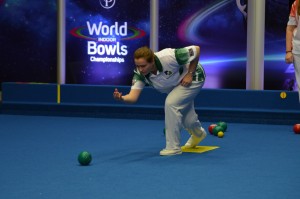 ext with a further single that meant that Eadie needed a treble to draw and stop the looming tie break. It was to no avail as she could only get a double and the match went to a tie break.
It seemed as if both players were struggling slightly and the first and second ends were fairly loose with each player taking an end apiece. Into the third end of the tie break it was Field that managed to rally herself to place two bowls fairly close to the jack and though Eadie tried to remove them she missed with both last bowls, though only fractionally, and it was Field that goes through to meet up with Ellen Falkner in the final tomorrow. Field won the match 3-8, 7-6, 2-1