21 January, 2016
A packed cro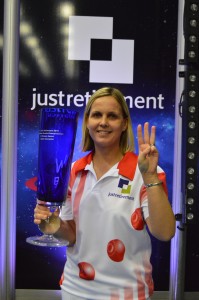 wd were treated to a delight of a game in the final of the Ladies World Matchplay at Potters resort. Ellen Falkner and Rebbeca Field, both previous champions, both English, went head to head to see who could lift the title in 2016.
The first set was a tight affair all the way. Neither player getting into an open lead on the scorecard. After eight ends the score was 7-5 to Field but Falkner played a superb conversion shot to pick up a count of four and take a 9-7 lead with two ends left to play. The next end was an exhibition of bowls from both players. Field drawing in her third bowl to hold a count of three, Falkner then draws shot with her last delivery of the end and Field just misses with her last bowl. 10-7 to Falkner, one end to play. A perfect opening draw from Falkner set up the final end for her of the first set and while Field played an awesome bowl to try and pick up three shots she needed to tie the set she managed to get a two and Falkner tucked the first set away with a 10-9 score line.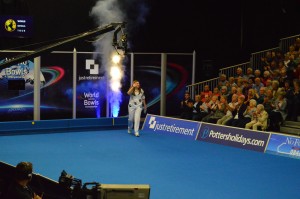 Second set was a close thing all the way. Falkner managed to hold in as Field put on a great fight back. Going into the final end it was all square and if Field won the end we would be into a tie break. What an end. Field held shot up to Falkner's last bowl where the lady from Ely Indoor Bowls club played a superb drive to take Fields bowl off. Field tried to run Falkner's shot bowl but failed and Falkner lifted the title here for the third time 10-9, 8-7.