12 January, 2016
Into the first round of the last 32 here at Potters R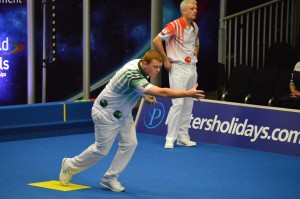 esort in the Just Retirement World Professional Indoor Open Singles and it was 19 year old qualifier Connor Cinato against one of the worlds best, Andy Thomson MBE. Cinato had just been awarded the Young Player of the Year Award at the WBT Awards Night just a few ago and he was calm and collected as he waited his chance to step out onto the 'blue' portable rink.
Into the first set and it was Cinato that opened up proceedings with 3 shots in the first two ends and certainly applied pressure almost immediately to the stalwart Thomson. By end 6 after fantastic bowls from both players the score stood at 4 all. It was Cinato that managed to claim the next two ends with two doubles leaving Thomson needing a full house in order to draw the set, but again Cinato shut it down and Thomson took a singl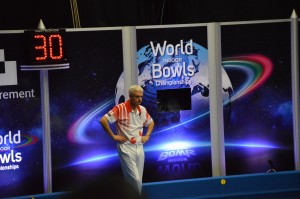 e and it Cinato who had first set.
The amazing bowls repeated in the second set and by end 6 it was 5 all, Cinato took a single in the 7th but then Thomson lifted himself with all his experience and shrugged of Cinato to take the next two ends with a triple and a single to claim the second set and force a tie break.
Both players were playing precision bowls but it was Cinato that clambered out of the fray with a single to take the first end. Into the second end and it was Cinnato who was looking at a difficult shot as he was at least two down, with his last bowl he played a weighted shot to try to remove Thomson's shot bowls, he went off line but then he had the biggest ride as his off line bowl struck a wing bowl and he glided back into the head – picked up the jack and trailed it to his back bowls to leave Thomson with his last bowl to save the end and match. Thomson played a perfect weighted shot into Cinato's bowls and split the jack out and followed through to take the shot and end.
Final end of the tie break and again it was a massive fight between them, with Thomson holding shot it was again Cinato that played a weighted shot, split the jack out the head and sat it in the ditch with 3 yards for Thomson to play to with his last bowl. Thomson attepted the perfect draw and got the result but left about 2 foot from the ditch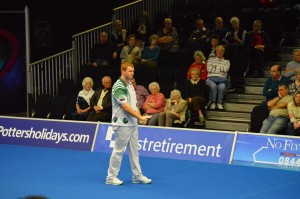 and Cinato had last bowl, he played the draw and played it perfectly to almost the ditch and that was enough for Cinato take the tie beak and match so he now goes through to play the winner of Jason Greenslade or Jamie Chestney in the next round.
Don't forget you can watch this match on our free HD Stream – youtube.com/worldbowlstour