12 November, 2015
Quarter final four of the Co-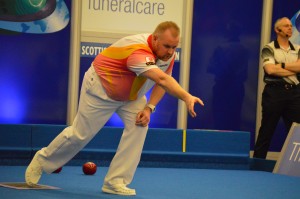 operative Funeralcare Scottish International Open, a rejuvenated Mark Royal verses, Commonwealth games gold medallist and ex World Champion, Darren Burnett. A full house crowd were treated to an exceptional game of bowls. Burnett took the early lead and when Royal got the jack back he tried to shake up Burnett's length to no avail, the policeman from Arbroath, Burnett, picked up a count of three to take a 7.2 lead after six ends. Royal rallies and takes the next two ends to see the set score at 7.5 with one end to play. He held the three, Burnett strikes and takes two bowls out, Royal draws in again for two but Burnett finishes off the set by drawing shot with his last bowl and taking the set 8.5.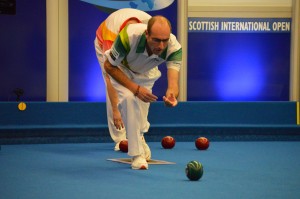 The opening encounters of the second set were equal one end each. End three and Royal. Royal picks up a shot at end three. End four and Royal holds two, Burnett strikes only to see all his bowls leave the head and it's a four to Royal. Two to Burnett next end and the crowd is enjoying a game of cat and mouse, Scotland v England, who wins? Another end to Royal, then he gets a count of three, when Burnett goes through a gap. Set score at 10.3 to Royal and a tie break looms.  Second set Royal 11.3.
First end tie break and Royal nails opening bowl. Burnett tried to hit and misses. Tries again and puts jack in the ditch and has his touching bowl follow it in. Royal has a meter to draw with his last, he over reaches and first end to Burnett. Second and again Burnett has to open the head up. Royal draws to the re spot, Burnett puts his bowl off the side and second end to Mark Royal.
Third and final end tie break. The tension can be felt and the crowd applaud both players before the jack is sent. Royal sets the length. Burnett is in first to the jack. Last bowl from Royal he draws in it's a measure. Tension on tension - but Royal concedes the shot and it's Burnett who takes the semi final place