21 January, 2020
The big match of the day was the Final for the title of World Indoor Mixed Pairs and was between Greg Harlow & Alison Merrien MBE up against Nick Brett & Marion Purcell. All four players were unique in that they had each won this title before in previous years with different partners. The match, in front of a packed capacity arena audience, had every shot in the book used plus a bit of lady luck and had the audience on the edge of their seats.
It was Merrien & Harlow that got off to a flying start, holding of a battling Purcell & Brett, to reach a 5,1 lead by end five. The next two ends both sides managed a single each but it was a stunning eighth end that made the crowd gasp as Marion & Brett took a count for three to be only one shot behind Merrien & Harlow. End eight had all the drama as shots were traded and it was again Brett that made a superhuman effort and took a two to finish the set 6,7 to Purcell & Brett.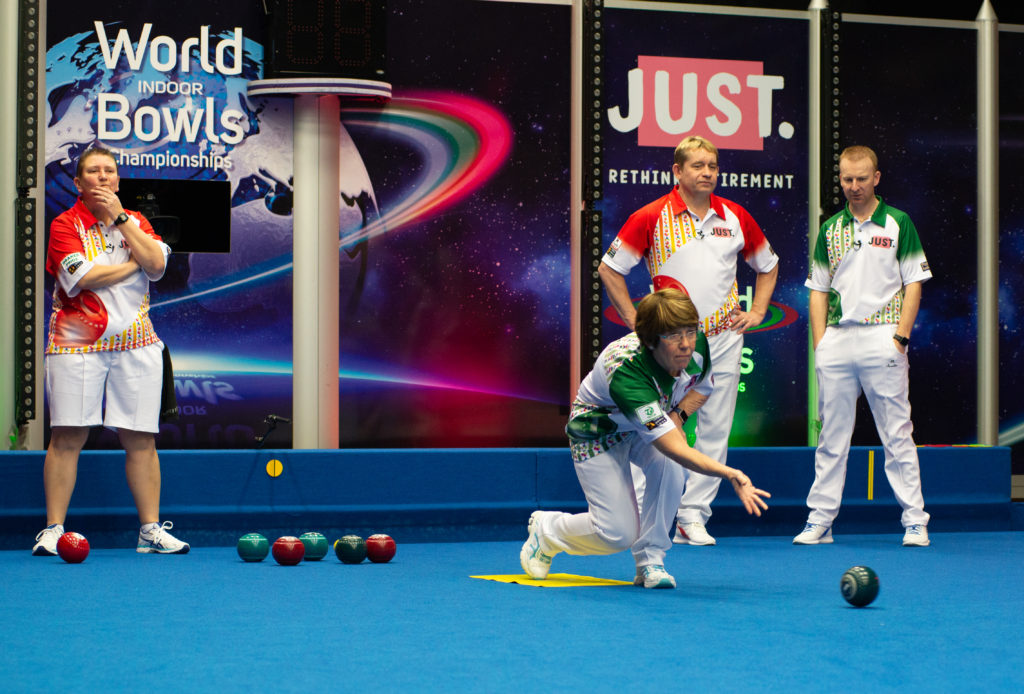 Set two and again it was Merrien & Harlow that started well and holding off Purcell & Brett - draw shots, timing shots and outright firing shots - all were used and by end five the scoreline was only 3,3. It was Merrien & Harlow that took the next two ends to go 7,3 in front but it was Brett in end eight that managed the final single count to narrow the gap to 7,4 down. They needed a three on the last end draw as a minimum - again a superhuman effort from both say Marion & Brett sitting holding three shots, Harlow played a running bowl and missed by fractions, Brett produced an outstanding bowl to a tight head to lay another - 4 down and again Harlow tried the running shot, it just drifted offline and Marion and Brett become the 'Just' 2020 World Indoor Mixed Pairs Champions 7,8.