23 January, 2016
First Semi Final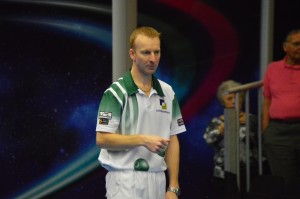 of the Indoor World Championships 2016 and World No1 Nick Brett faced David Gourlay. First end saw World No1 Brett put two bowls in close only to see Gourlay run the jack out of the rink onto the re spot and pick up two himself. Great exhibition bowls at end two saw Gourlay holding two shots till Brett's last delivery and Brett picked up a shot. Another shot to Brett at end three and set score is all tied at 2.2. End four and Brett held shot till Gourlay turned the jack for two shots himself. Score 4.2. End five and Gourlay put two in close, Brett ditched the jack and managed to pick up a shot. Punch for punch the World No1 and World No6 played to a packed Potters venue. Again  nerves of steel f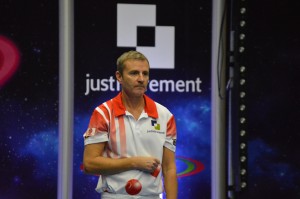 or the next end, Gourlay lay shot till Brett played one of his well known runners and got the perfect result to turn the jack to his own bowls and picks up a two and takes the lead 4.5 after six ends. End seven and a thriller all the way, Gourlay held shot till Brett played a runner and set up a hold of four, Gourlay played weight himself and moved the jack to his own bowl score 5.5. A one at the next end saw Brett take the lead with one end to play. Loose opener by Brett, Gourlay nails the jack and when Brett has delivered his final bowls Gourlay holds two shots to take set one.
Set two was no les
s as exiting. First shot to Gourlay end one. End two to Gourlay. End three Gourlay holds two shots, Brett draws to within millimetres to take a shot. Score 2.1. End four and Brett plays two brilliant bowls with no Gourlay reply and take a 3.2 lead. Two shots at the fifth end to World No1 Brett and he extends his lead in the second set to 5.2. End six and Brett hold three shots, Gourlay runs three times at the head and with his last bowl picks up the jack in to the ditch to get back on the card. Scoreline 3.5. Next end we saw a loose end from Brett and Gourlay picked up two shots to take the score back level at 5.5 with two ends to play. A pin could not be heard drop in the auditorium, tense stuff out on the blue portable rink. Gourlay hold two at end eight, Brett fires and the jack goes to the back of the rink, Gourlay draws shot again, Brett drops short. Score 6.5 to Gourlay with one end to play. Brett has to score two shots to take us into a tie break. After two bowls each Brett holds  two shots, Gourlay runs at the head and is on target, Brett draws for shot, Gourlay drops short, Brett draws again, its a measure. Two shots to Brett and we are in to a match tie break.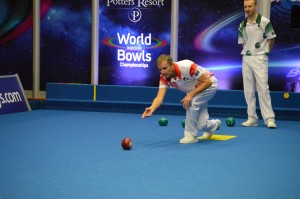 First end of tie break to Brett and the game has turned in favour of the World No1. Second end loose openers followed by a back toucher from Brett, Gourlay overplays again, Brett covers, Gourlay runs and just misses, Brett covers again, Gourlay plays and when dust settles its end to Brett.
Final Score Gourlay 7.6 6.7 0.2 Brett and its World No 1 Nick Brett who take the first place in the World Indoor Championship final 2016.