15 January, 2016
The first match of the day in the Just Retirement World Professional Indoor Mixed Pairs here at Potters Resort was between the pairs of Robert Paxton & Marion Purcell (Defending Champions) against Nick Brett and Alison Me
rrien MBE and was a scintillating affair with good action from all four players to a capacity audience in the arena.
Into the first set and it was Paxton-Purcell that got off to a flying start taking 5 shots in the first 3 ends before Brett and Merrien then managed to claw a single in the 4th end. Paxton and Purcell swiped a single away from Brett and Merrien in the 5th but then the tables turned as Brett and Merrien hit their stride and took a double and 3 singles over the next 4 ends to finish the set with a 6 all score.
Going into the second end it was one of superb bowls from all four players with neither side giving an inch away. By the 6th end it was 2-5 to Brett & Merrien who then took a further double in the 7th. to go 2-7 up, then it was Paxton & Purcell who reversed the table by taking a double followed swiftly with a triple to finish the second set 7 all and it was tie beak time.
It was Paxton & Purcell that grabbed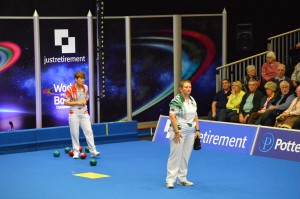 the first end and then Brett & Merrien took the second so everything was right down to the wire on the third and last end for the match. After the battle of the leads had settled it was down to Paxton and Brett to settle the arguement, with onebowl left each Brett played a super bowl to draw shot and Paxton decided to run to clear the bowl, he was slightly tight, missed and it was Brett and Merrien that took the tie break and match 6-6, 7-7, 1-2 to go through to the semi-final at 2pm on Sunday 17th. January here at the 5star Potters Resort.