10 November, 2015
Two of the big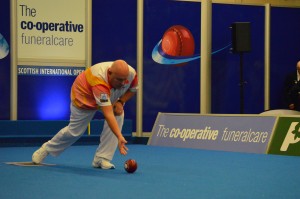 gest names in the game went into battle this afternoon here at the Co-operative Funeralcare Scottish International Open – Current World Champion versus former World Champion.
Alex Marshall MBE and six times World Champion faced Greg Harlow who was World Champion in 2010. It was Scotsman Marshall that took control of the opening set and won it 8.3.
The man from City of Ely club Ca
mbridge, Harlow hung in during the second set and though both players played a brilliant end seven it was Harlow who picked up a count of two to lead 6.5 going into the final two ends. At end eight East Lothian's Marshall got in for a single count, which took the captivated audience into the final end of the match with the scores all square at 6.6. Marshall opened with a six inch short lead. Harlow overplays by a yard. Marshall puts one just behind. Harlow plays and touches the jack to count for one. Marshall chases his next bowl to the head but it falls short. Harlow falls short with his third. Marshall plays a runner that misses and Harlow wins second set and takes the game into only the third match tie break of the event so far.
Tie Break end one to Harlow. End two Marshall draw's shot and with Harlow's third bowl he chips the Marshall shot out of the head and holds the shot he needs to take the match. Marshall misses and its Harlow that moves into the quarter finals.
Every match is live streamed in full HD on the World Bowls Tours own youtube site at www.youtube.com/worldbowlstour