10 November, 2015
What a treat of a game Darren Burnett playing Lancashire born Australian David Holt, held for the spectators. The game had everything, a real tussle between two of the top exponents of the game. Holt won Commonwealth Gold back in 2002 in the fours while Burnett won the recent Singles Gold in Glasgow. Holt has won the World Pairs and Burnett has won the World Singles. Who could call this game? The first set was exciting end for end stuff. Burnett with a one shot advantage going into the final end and holding one shot right till the last delivery of Holts were the Australians running bowl saw a shuttle of the bowls round the jack and when the dust settled Holt held one shot. Set tied.
We then went into the second set and more to delight the crowd here at the Dewars Centre. The first two ends saw single shots for the Police officer from Arbroath Burnett, he then consolidated that with a count of two shots on the third. Could the man who had hot footed it from a court appearance in the morning just in time to play his second round tie here take the game? Burnett held four shots on the next end with Holt only one bowl left to play, he plays a runner and the jack goes off the side of the green and is re spotted. Holt counts a one!! End five and a huge drive shot from Burnett see the umpire called into duty again and again one shot to Holt.
Trying to stop the man from Zetland, Australia,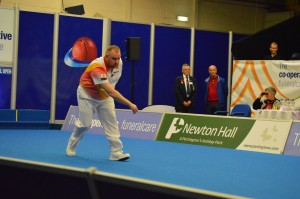 Burnett was trying everything and managed a single at the next end to stop the rot on the score card. Burnett now leads 5.2 and at end seven holds two shots. Holt drives and misses with his third. With his fourth plays more control and misses the target by millimetres. Burnett 7.2 with two ends to play. With one delivery left from Holt at the eighth end Burnett held the two shots he needed. Holt drives and misses and Burnett takes his place in the quarter final line up here in Perth.
Every match is live streamed in full HD on the World Bowls Tours own youtube site at www.youtube.com/worldbowlstour where we have recorded audiences in such places as Argentina, Hong Kong, Israel, Jamaica, Philipine Islands, Cayman Islands & Tenerife to name but a few .